I'm sure everyone likes Italian pasta. Pasta is easy to prepare and very tasty. There are many recipes for Italian pasta. I decided to combine two Italian recipes and this is how this super awesome pasta recipe came.
The first recipe that inspired me is classic Italian pasta and the second is Caprese salad. I made tagliatelle Caprese that are vegetarian and full of Italian ingredients. So, like I said, all we need is pasta, tomatoes, mozzarella, basil and the rest are common ingredients that each of you have at home.
This Caprese Pasta is a really quick recipe. Pasta in combination with tomatoes is awesome, plus melted mozzarella…
Well, something irresistible…
First, cook the pasta, in the meantime fry the tomatoes briefly and finally add the mozzarella cheese… That's actually all you have to do, and the best Italian pasta caprese is ready. So let's prepare them together!
The pasta needs to be al dente, so DO NOT cook them LONG
Do not fry the tomatoes for too long
Don't forget the basil, it gives the right flavor to the dish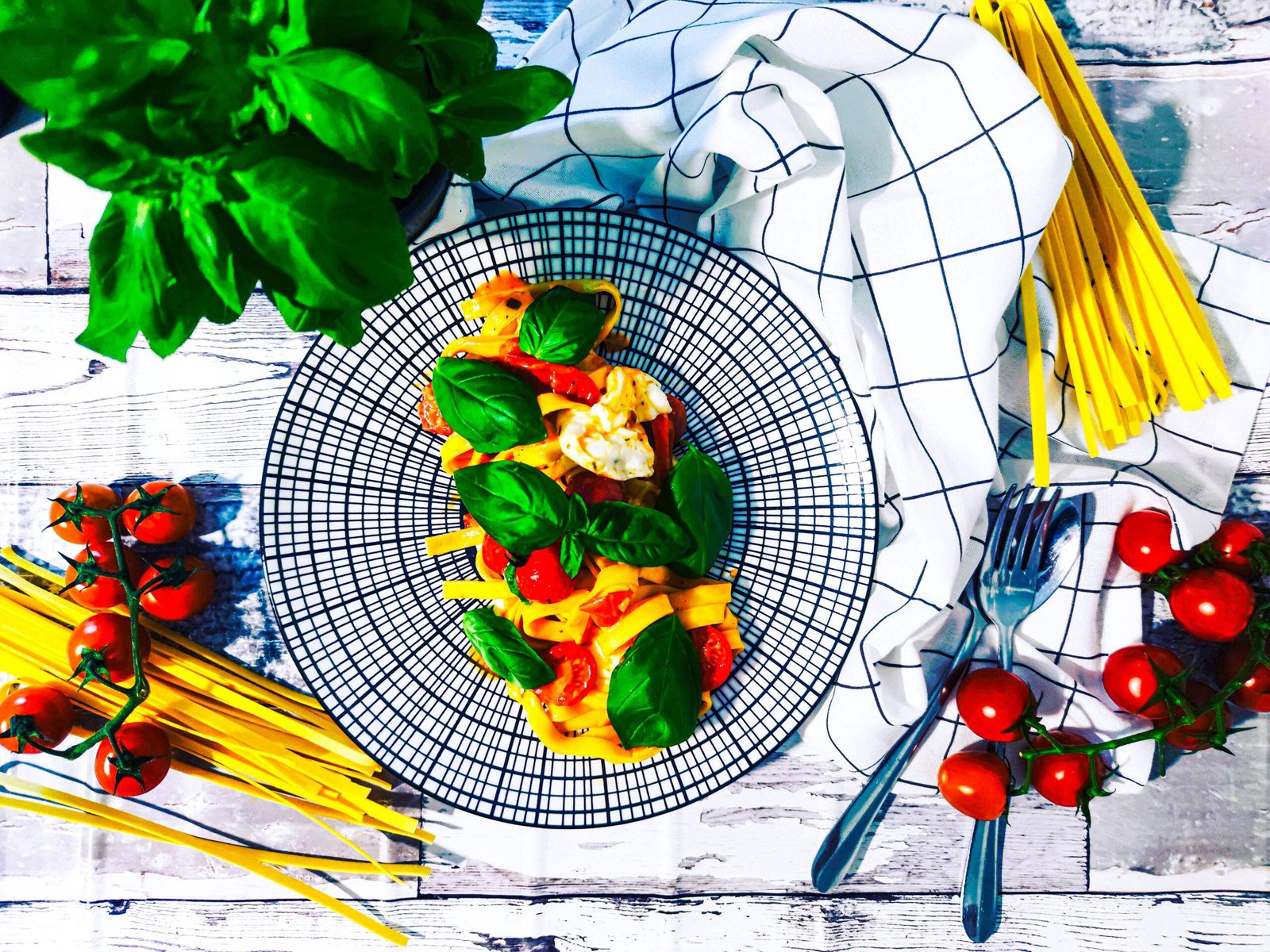 The Best Italian Caprese Pasta
Simple, quick, Italian and delicious pasta that you will not get enough of...
Ingredients:
300

g

Cherry Tomatoes

160

g

Mini Mozzarella

200

g

Tagliatelle

2

tbsp

Olive Oil

1

tbsp

Butter

1

Shallot

1

clove of

Garlic

Basil Leaves

Salt, black Pepper, chili
Instructions:
Pour water into the saucepan, add about 1 tablespoon of olive oil and salt. Bring to the boil and cook the pasta al dente.

Pour oil into a heated pan, add finely chopped shallot and garlic. Chop some basil and add to the shallot.

Halve the cherry tomatoes and add to the shallots. Fry for awhile, add little bit of pasta water.

Add the pasta to the tomatoes. Season with salt, black pepper and some chili. Finally, add the butter, let it melt and when the butter has melted add the mini mozzarella. Stir, simmer for about 1 minute.

Garnish with Basil leaves.
Notes:
Do not fry the tomatoes for too long
Just before the end, add mozzarella
Don't forget to add the basil leaves, it's not the same without them